Hey everyone,
I would just like to share a mod I came up with while talking to uscmCorps. The goal is to allow for access to the PMAG's gas valve without removing the shell. This is compatible with current generation LM4 PMAGs, and I believe it should also work with future LM4 polymer magazines.
Here is what the final product looks like:
Here are the tools I used:
From Left to Right: Dremel cut-off wheel, Dremel sanding drum (small), Dremel milling bit (approx. 3mm), and Dremel.
First hole I made was on the right side of the shell, just above the mag catch cut-out. This is to allow part #30 to be removed with the shell still on. It is a simple operation. A drill press is handy if you have one. All that needs to be done is to drill a 3mm hole, 9mm from the top of the shell and 6mm from the back edge.
Sorry, it was hard to get on camera. Here's the pilot mark:
Finished hole:
View of part #30 through the hole:
Finally, a large hole needs to made around to valve so that the wrench can fit. The hole needs to have a radius of 12mm. It intersects with the sides of the walls of valve cut-out at 4mm and 14mm below the top of the shell. For good measure I also shaved the back wall smooth above the opening. The milling bit was used to open up an initial hole and then used the sanding drum to open it to the final size. A cut-off wheel was used to smooth the back of the shell.
As before, I marked the cut beforehand:
Final hole: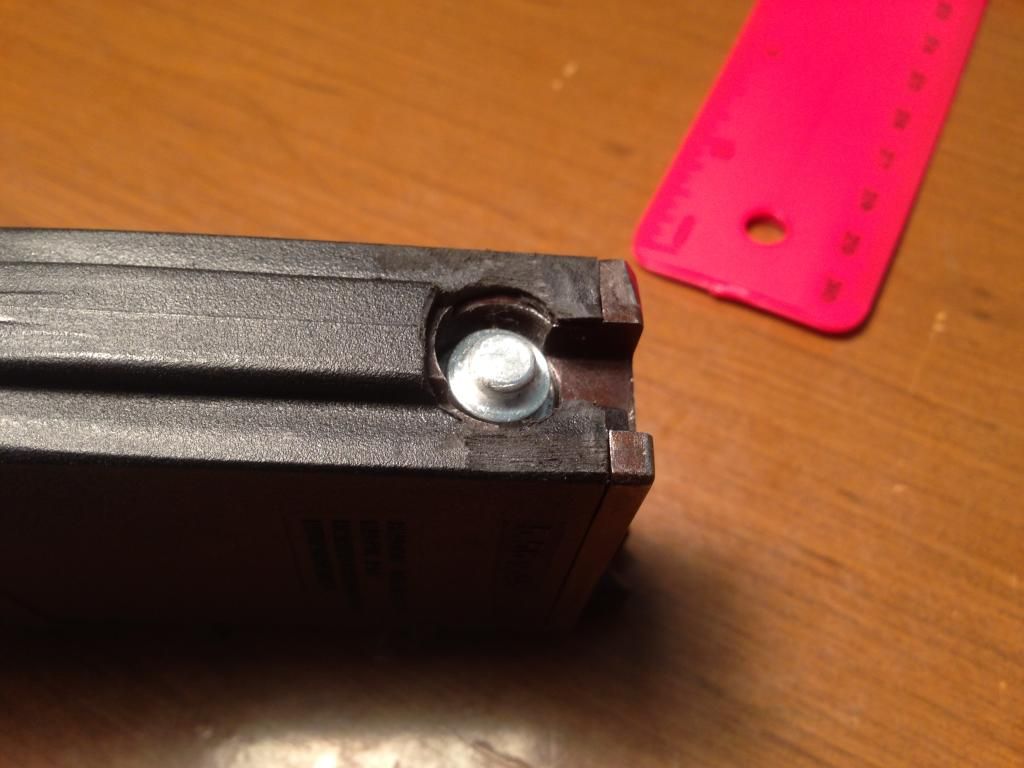 Please pardon that the hole is not super precise. I didn't feel like doing the math on the points of intersection, so I just kind of winged it.
Another thing I would like to mention because I feel like someone is going to bring it up; won't part #30 fall out? I spent a good 5 minutes holding it right side down and forcefully shaking it. The pin didn't even budge. Also, it will be supported by the magwell while in the gun, and pouches while outside.
Hope you guys enjoyed. Thanks for reading
Edited by BeachEMT, 25 June 2014 - 11:45 PM.