Finally i have all of my parts for my SR-12.
Its actually not even put together because i didn't have the patients anymore.
Gear box isnt even inside her. The pistol grip is propped up by a piece of metal haha.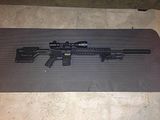 I still need to mod the rear wiring so i can fit a LIPO and my Fet into that stock.
Already had to mod the buffer tube so it would completely fit onto the Lower Receiver.