tales, on 28 June 2013 - 01:15 PM, said:
Agreed, i met a "fan" outside when Benoit David was the lead singer. He told me who needs Jon? this guy sounds just like him.
1st no he didn't sound like Jon & 2nd if it wasn't for Jon he won't have anything to sing.
W/O Jon they have to play smaller venues, this leads to less security. So after the show i walked on stage & found one of Steve Howe's Guitar picks
It in a frame with Roger Deans artwork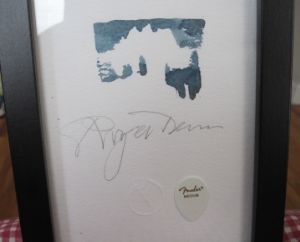 gcw, Can you correct the thread title from listing to listening. It sounds like a maritime disaster. Or that Bklyn grammar thing
Steve Howe is a guitar hero of mine. His live version of The Clap inspired me to pick up the guitar. Today, my go to is a Martin HD-28 that after 16 years of play is really starting to get a great voice. Title changed....