As we all know the lm4 comes standard with some play between the uppers. It wasnt really ever a bother to me but since i was bored and had an idea. I thought i would try it just to see if my concept worked.
When looking carefully at how the upper and lower wobble i determined that it may be due to too much space left between the upper and lower. So, i went to my box of rc paint equipment, and found myself some pactra trim tape. Remember i am just trying to see if my concept will work in action.
Using the thickness close enough to the thickness of the receiver walls, i just simply applied the tape like so: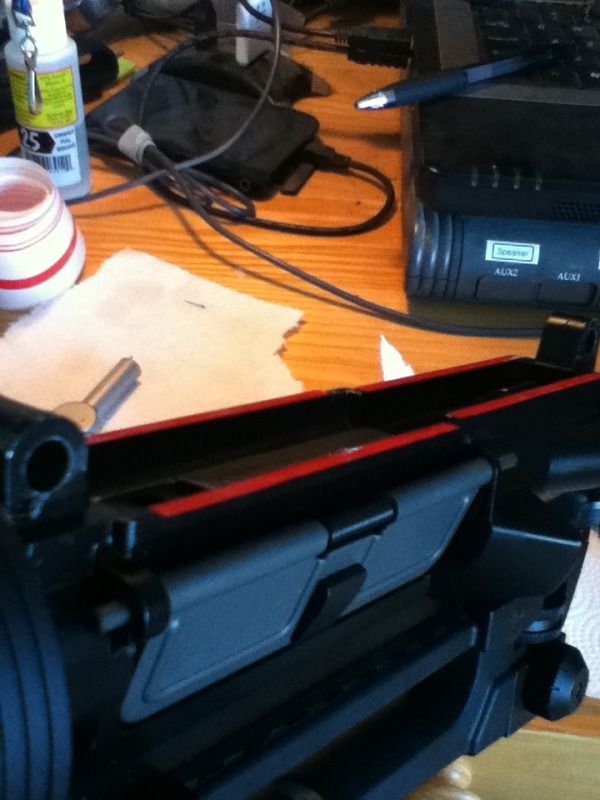 Make sure to wipe off any oil where you apply the tape or else it wont stick.
This is by no means a permanent modification, but just testing a hypothesis.
The results were positive! Using this thin trim tape, the receiver wobble is gone.
So by filling in the gap between the upper an lower, you can cut the wobble to essentially nothing.
Aluminum tape may also be a contender here for it is fairly thin and may have better adhesion. Duck tape will probably be too thick because if you put in too thick of a spacer the rear pin will not go all the way home.
Maybe even a feeler gauge could fix the wobble if it is thin enough? Throw out some ideas people and give it a shot. This is what i tried and it worked. Now i just have to see how long it lasts.
The only wobble left to fix would be the handguard wobble, and the carry handle rail wobble, which im too lazy to fix that right now.