Long Range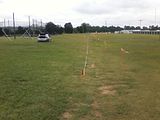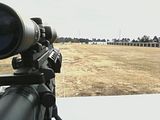 I will have a full / in depth write up on long range coming soon.
This will include video of my DMR shooting at long distances measured off with different inner barrel set-ups.
Long Distance being at 100 yards and out.
Based on my guns shooting performance today, looks like I need more measuring tape than just 100 yards.
The purpose of this post is because it will be at least a couple of months before I complete all of the testing on my DMR and just wanted to share some preliminary info as to where I am at with it right now.

I have been interested in shooting long range since I got into airsoft and I find the subject of interest
I have even done a few DMR set-ups through the years but never had the right complete set-up to achieve the performance that I was expecting. Right set-up being all the right gearbox components, optimal inner barrel / bucking / nub combo, motor, and battery and everything performing to spec. I have come close a couple times before, but there was always one of the things mentioned above that just was not working in optimal cohesion with the other. I decided at the beginning of this year that 2012 would not end without a completion of a DMR that performs as I intend and where everything installed works up to spec.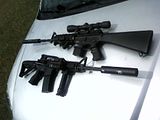 DMR Goals:
- Long Range
To achieve long range you have to first define long range.
This is not the same definition for everyone who is interested in the subject and who builds guns to achieve it.
For me, the benchmark is and has always been 100 yards / 300 feet.......as a starting point.
For some, 100 yards seems to be an impressive distance while others almost scoff at it.
Scoffers seem to think that because their stock m4 can point to the sky and shoot 100 yards with .20's while the wind is at their back that somehow there a member of the sniper community. This mind you with groupings of + / - sixty yards
Others may scoff for they post ridiculous claims stating their DMR can hit 8 of 10 on a doorknob 475 feet away.
100 yards, in my view, is the distance barrier that needs to be achieved if one wants to qualify themselves as a long range shooter.
The distance itself, though impressive in my view, is unimpressive if shots are not accurate.
As a shooter, it does not mean anything to shoot and have no idea whatsoever where your shot is going, round characteristics in its trajectory, and where your shot ends up, and to know why.

- Accuracy at long range
Accuracy can have different interpretations as well.
I am not sure that I have arrived at a firm definition of accuracy yet myself, more like a grading scale of accuracy.
5 of 10 is accuracy.
6/7 of 10 good accuracy.
8/9 of 10 great accuracy.
10 of 10, of course, perfect accuracy.
Remember, we are talking about accuracy at long range, not just standard accuracy.
100 yard / 300 foot benchmark.
To achieve the above shooting performance at will as a result of shooting skill and have a weapon built to do it is pretty impressive.
My specific accuracy goal is to be able to hit 8 of 10 at will at 100 yards any and every time I shoot at this distance.

- Consistency: Accuracy
Anybody can have a good day where everything just seems to go there way on the airsoft field.
As a shooter, it is important to know that from the first shot to the last your rounds are going to hit the target and the shots that do not, why they do not.
Hitting the target on the first shot at long range proves who your shooters really are.
This is only possible from a firm understanding of the skill that goes into shooting specifically at long range and from having put the time in on the range to have such knowledge.
This includes but is not limited to:
1. Understanding wind and over-all weather conditions, as well as how both affect the specific distance you are shooting at.
2. Scope settings and specifics.
3. Hop-up settings and specifics.
4. BB weight and BB brand characteristics.
5. Shooting posture, breathing, grip, trigger pull, gun rest position, and elevation.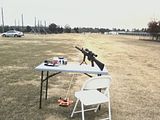 - Consistency: Gun Durability
Any tech can build a gun to break, thus giving peak performance for a limited number of rounds before the gearbox implodes. It is important to have a gun that does not break down during the day or ever between maintenance cycles. It is just as part of the DNA of long range shooting to be the tech that built the gun you are shooting, like a race car driver who is the mechanic that built the race car. It matters.

So.....
After a few months of doing some extensive research on the subject of building a DMR, assembling a parts list, and doing some pre-DIY mods to have ready when it came time for assembly, it was time to see what I had. The base platform gun is a KWA 2gx m16. My biggest problem with my previous DMR builds was changing out KWA compression parts for after-market parts that were not compatible wit the brand.
I have used after-market compression parts in my KWA's before that were compatible, but those were for other projects. I like to constantly try new things and it just so happened the new parts I tried that did not work so well was when I was putting together a DMR. This time I went with the stock compression parts and the appropriate DIY compression mods to the compression parts.

The set-up went as follows:
Internals:
Gearbox -
- Promy m135 Spring.
- Sponge cut to size and inserted into forward 5 coils of spring for Sound Absorbing.
- Bravo Ported Aluminum Piston Head w/brand new Danco #14 O-ring.
- System Supercore Piston w/ 2nd tooth shaved off, 3rd tooth filed down by 2/3rds, and 4th tooth filed down by 1/3rd.
- A&K Full / Type O Cylinder.
- KWA Cylinder Head w/ Gasket Sealant mod to the Cylinder.
- 3/4 Rubber Washer added to the Cylinder head Sorbo after Gasket Sealant mod was completed. This was permanently secured to the Cylinder Head Sorbo and inner Cylinder wall with 100% clear silicone bond.
- Brand new KWA Male Trigger Contact.
- Bravo ARL (Anti Reversal Latch).
- Shimming of gears.
- AOE (Angle of Engagement): Perfect 12 O'clock Sector Gear / Piston engagement - thanks to the addition of 3/4 rubber washer.
- Grease: Superlube for lower gearbox shell and gears. 30wt RC/ Shock oil for upper gearbox, piston rails, piston head, 0-ring, and inner cylinder.
Motor:
AMP T5000L High Torque Motor.
Inner Barrels:
Edgi 509mm / 6.01tbb
MadBull 590mm / 6.03 tbb
Hop-up Unit: Stock KWA
Bucking: G&G Green Bucking
FPS: 475 w/ Crossman .20's
Externals:
- SR-16 Flip-up Rear Sight.
- D-Boy Sniper Grip.
- KWA Gen1 m4 complete upper assembly.
- UTG M4 HandGuards and Rail Covers.
- JBU JB31 Mock Suppressor.
- MagPul AFG( Angled Fore Grip).
- Echo1 m16 Sling Adapter.
- UTG Low-profile / Full Size Scope Riser Mount.
- AIM 3 - 9 x 40 Rubber Scope.
Performance was very good.
All distances are measured off using a 300'' tape measure.


Performance specifics / using .30's and Edgi 509mm / 6.01tbb
- 40 yards: 10 of 10
- 50 yards: 9 of 10
- 60 yards: 8 of 10
- 70 yards: 6 of 10
- 80 yards: 6 0f 10
- 90 yards: 5 of 10
- 100 yards: 5 of 10
Performance with MadBull .40 bb's:
- 40 yards: 10 of 10
- 50 yards: 10 of 10
- 60 yards: 10 of 10
- 70 yards: 8 of 10
- 80 yards: 6 of 10
- 90 yards: 5 of 10
- 100 yards: 5 of 10

I put this gun through an estimated 25,000 rounds of testing consisting of ten total days over a two month period.
Distance was measured off every time data was collected.
The gun performed at optimal performance for 25,000 rounds until I noticed a decrease in FPS and an ever so slight drop in shooting performance. Time for maintenance.
Upon opening the gun for maintenance I identified a completely worn out O-ring as the cause for the loss in compression. The O-ring was visibly and noticeably smaller than it was in original brand new condition.
I estimate the O-ring lost between 1/4 and 1/3 of its original size.
So.....
I would say my official entry into the world of long range is a success.
I accomplished all of my goals except for being able to hit 8 of 10 from 100 yards consistently.
Now that my gearbox was open for maintenance anyway, it was decision time.
____________________________________________________________________
Time to Up the Performance:
Having a brand new MadBull m150 spring laying around and a lightly used Guarder SP150 laying around, I had to decide if it was worth having a gun that might cause me problems passing chrono at some fields and for some games. Being that my goal was to get the most performance out of my gun and that my gearbox and all components are tailor made for an m150 set up, the decision was made.

My current set-up now consists of all internals being the exact same except for three things.
1. Main spring is now a Guarder SP150.
2. Viton X-ring instead of O-ring.
3. Re-shim in order to accommodate the SP150 spring vs the current shim job to accommodate the m135 spring.
Performance stats:
Official performance stats will come later as today was the first day I put this gun through its paces.
I will say this about the guns performance today given the changes that were made.
I have never hit the target at 100 yards so many over-all times before than I did today.
I will put it like this: I hit the target today at 100 yards more times than the previous 10 testing days combined.
This was using MadBull .40's
I also could not have asked for a better day weather wise. Essentially no breeze or wind the entire day.
Usually even a light breeze can cause problems shooting long range in an open field.
MY consistency need to be improved on, however, for I had too many streaks of hitting several shots on target continuously and then missing several shots continuously. I will get that worked out.

What Now:
When I have officially completed all my testing, I will document everything my DMR can do on video and most likely do so including all the inner barrel set-up's I use with this gun. This will hopefully be ready to go in the next three months.
Please feel free to offer any thoughts or suggestions on the subject of long range and/or my specific post.

Edited by vanevery, 28 September 2013 - 01:18 PM.